I was born in the dessert of Arizona, raised in the heartland of Iowa, and today I am home by the ocean in Nosara, Costa Rica.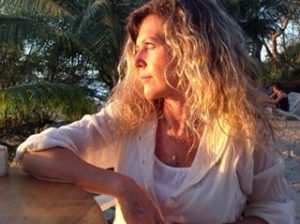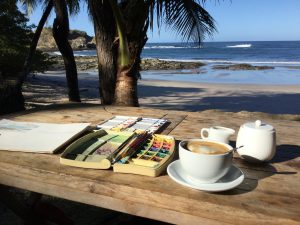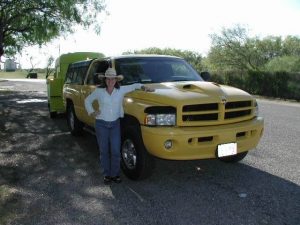 I feel like the most blessed woman on the planet!  I am following my passion, painting and surfing beautiful waves.  I always knew that I was an artist and I was here to paint. After my 3 amazing kids were all off to college, I jumped off! I sold our home in Des Moines, packed up my studio in the horse trailer and drove to Costa Rica in a big yellow truck.  It was the beginning of a new life and lead me to my forever muse.
I had painted the urban landscape for over 21 years after completing my masters degree from the University of Iowa in 1982.  Moving to Costa Rica in 2004 created a paradigm shift in my work.  I was an artist recognized as a premier plain air painter, capturing forgotten moments in everyday life in cities and large metropolises. Now I was living in a jungle beach community with no concrete boulevards or skyscrapers.   It was my love of the ocean and surfing that redirected and focused me.
Today, I know the ocean as my muse.  When I am painting her, I feel her power and magic.  I respect her and I am humbled by her daily.  I believe that surfers have a unique connection and understanding of waves that no other water person has. We see her at eye level.
I love painting for people who love the ocean as I do.  It is my honor and privilege to create art for your home or business.  Please contact me. Let's chat about that memory you'd love immortalized on canvas, or the secret surf spot that turns on and makes your month, or any idea for a painting!   I am stoked to create your dreams on canvas and I love hearing your thoughts about my work.